The Juleve Collection is the elegant jewelry line designed by Gold & Diamond Source's very own Steve and Julie Weintraub. With over thirty years of experience in the Jewelry industry, it is no wonder the couple has managed to produce such remarkable pieces of jewelry for their house line. These are works of art with as much personality and presence as their designers.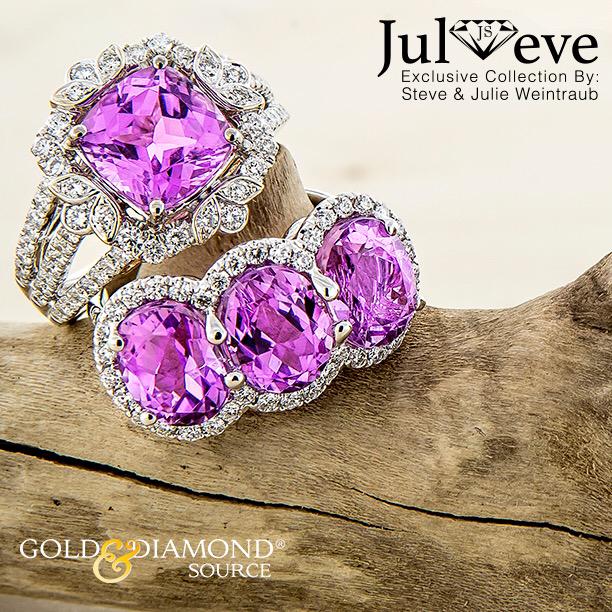 When you think of Juleve, think:
elegant and bold jewelry designs
designs that are both sophisticated and adventurous -
Uncompromising quality- simply the best stones available in the world!
The collection features a wide variety of cuts, colors, and choices of metals. Classical charm meets modern allure in Juleve.
The Juleve collection is timeless, there are references to the past as well as modern influences in the pieces. This is heirloom quality jewelry designed to break the barriers of time and fashion.
Many Juleve pieces contain a strong, bold center stone. These are gems that are chosen for their unique quality and color. Amazing gem stones like these are gifts from the earth. The Juleve collection takes these rare and beautiful objects and then surrounds them with design elements and additional gems to enhance and embellish the center stone. The end result is simply magical!
Here are some of our favorite pieces from the Juleve Collection:
Tourmaline in this shade is extremely rare. The polish on this stone sets it apart. The deep green is like looking into a deep mountain lake in springtime!
In the earrings above, rose gold is used to accentuate deep rose Morganite. These earrings enhance a woman's skin like no other!
A sapphire fit for a queen! Similar in size and beauty to the engagement ring of both Princess Diana and Princess Kate, the Juleve design above adds an additional diamond skirt to embellish the center stone. Simply stunning!
Come into Gold and Diamond Source today to experience the Juleve Collection in person.
To see the entire Juleve Collection, click HERE.
Connect with Gold & Diamond Source